locally owned and operated
GNT Geotrail and Nature Tours is a locally owned and operated business by Phil and Cressida Gilmore. We are both geoscientists with knowledge of flora, fauna and cultural (Aboriginal and European) history, and a passion for sharing this knowledge with others.
We have lived around the Glenrock State Conservation Area (SCA) and the Newcastle coast for about 40 and 20 years respectively, and spend numerous hours walking, running and riding through the area. We have extensive knowledge of the local area, including tracks, conditions, different vegetation communities, and seasonal variations.
Phil is the lead author of the Newcastle Coastal Geotrail, exploring the geology, biota and cultural history of Bathers Way from Nobbys to Merewether. Much of this information is pertinent to Glenrock State Conservation Area and beyond. As a member of the Hunter Bird Observers Club, Cressida has a passion for bird species and habitats locally, and bird photography.
Our values are:
To educate our customers in an informative, fun and safe manner, and to raise awareness of and ensure conservation of natural and historic features.
To be factual and reliable, respectful of flora, fauna, cultural and historical sites, and to promote conservation by identifying threats.
To promote mindfulness concepts on our walks, by encouraging our participants to sense the different sounds, colours, textures and scents that can be enjoyed along our tours.
To ensure your safety . Our staff are first aid trained, carry communications and first aid kits, spare water, suncream and insect repellant. We follow the Australian Bushwalking Good Practice Guide, and our Emergency Response Plan is current and reviewed regularly.
We have a current NSW National Parks and Wildlife Service Parks EcoPass licence, and our staff have current NSW working with children checks.
Phil Gilmore
Owner and Tour Guide
Phil has over 25 years experience as a geoscientist. As a local boy, the Newcastle coastline and Glenrock are like his own backyard. He was the lead author for the Newcastle Coastal Geotrail, and he has led many field trips over the years.
Phil loves the transition from the urban to the natural environment with Glenrock on the edge of the cities of Newcastle and Lake Macquarie, and the rich Aboriginal and European history of the area.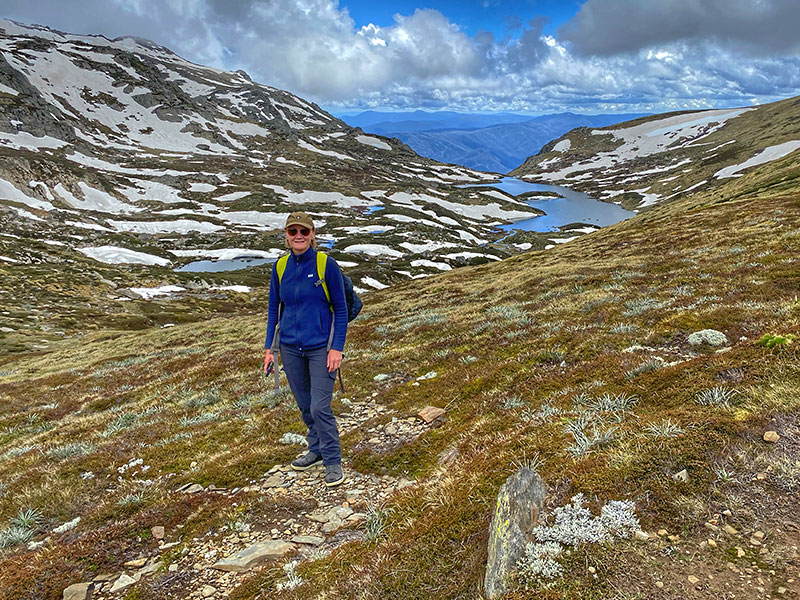 Cressida Gilmore
Owner and Tour Guide
Cressida has lived locally for over 17 years, after growing up in Melbourne. Cressida is a geoscientist, with a lifelong love of the outdoors and Australian wildlife.
She has a passion for birding and bird photography, and enjoys the seasonal plant variation through Glenrock – particularly the  native orchids. There is so much to enjoy on our doorstep!
What is a Geotrail?
A Geotrail is not just about geology. It incorporates all aspects of the landscape … the Abiotic (rocks and soil, oceans, atmosphere), the Biotic (plants and animals) and the Culture (Aboriginal and European). Our walks look at the interaction of these aspects.
What will I get out of the guided walk?
As well as enjoying some exercise, escaping to nature and some beautiful scenery, our walks provide an opportunity to learn more about the natural world that surrounds us. Our local guides are trained geoscientists and nature enthusiasts, who have a passion for sharing their knowledge of the geology, landscape, flora, fauna and cultural history of the area. We will explain how ancient geological processes have shaped the landscape we live in today, provided resources for thousands of years, and created niche habitats for flora and fauna. All on the doorstep of Newcastle and Lake Macquarie!
What facilities are along the tours?
Toilets and water taps are located along the Newcastle Coastal Geotrail Discovery Tour, including at the starting point at Nobbys Surf Life Saving Club.
Whilst toilets and water taps are available in Kahibah Memorial Park at the start / finish of the Glenrock Discovery Tour, unfortunately no toilets or water taps are located along the route of the tour.
What if the weather isn't great?
One thing we know about nature is that we can't control the weather!
Our tours will operate unless local Catastrophic, Extreme or Severe Fire Conditions, or local Severe Weather Warnings (for sustained winds, wind gusts or very heavy rain), or local Severe Thunderstorm Warnings have been issued.
We advise participants to wear appropriate footwear and clothing for the conditions, and bring a rain jacket if inclement weather is forecast.
Please bring a hat and a water bottle all year round.
How difficult are the walks?
The Newcastle Coastal Geotrail Tours is a mostly flat walk along hard surfaces, with optional short sand and rock platform sections. The walk is accessible for prams and strollers. Note that due to current closure of access along Newcastle South, the walk includes a moderate incline / decline, and is unfortunately not accessible for people with mobility issues.
The Glenrock Discovery Tour is a moderate walk on a mix of hard surface, gravel fire trails and tracks with loose surface, some short steep inclines / declines, a short beach section, creek crossings and uneven steps. Unfortunately, this walk is not accessible to prams, strollers and people with mobility issues – and is not suitable for children under 14 years of age
explore. escape. experience
GNT Geotrail and Nature Tours runs guided nature and culture walks along Newcastle's spectacular coast, through Glenrock State Conservation Area and beyond.
Get in touch with us today to book your tour with Geotrail and Nature Tours.